The Floral Studio: Modern Floral Preservation
By: The GrandWay
•
February 8, 2021
•
Weddings
Your special day has come and gone, and you are now busy trying to pick up the pieces. You have décor to return or sell, gifts to unwrap, thank you cards to mail and what about that floral bouquet that was the perfect accessory for your unforgettable walk down the aisle? It is always a disappointing day when the once vibrant blooms start to dry up and wilt away, inevitably ending up in the trash. What if there was a way to preserve their beauty and the special memories that they hold? Brittany Brown at The Floral Studio is on the right track with offering a modern take on preserving floral bouquets, so that you can enjoy them for many years to come. Let us introduce you to Brittany and tell you a bit more about what to expect when working with her at The Floral Studio.
The Artist: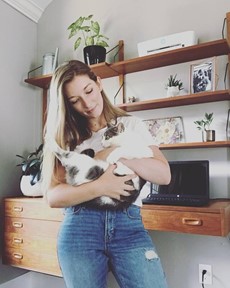 "Hello!

My name is Brittany. I started my business in the summer of 2020. I have always had a love for flowers and art. This is the best of both worlds! I get to make beautiful art pieces out of sentimental flowers for people to enjoy forever. I can't wait to meet you and create something beautiful for you!"
– Brittany Brown, Owner of The Floral Studio
Booking:
Contact Brittany as soon as possible to secure a date! Ideally, your bouquet should be dropped off within a few days after your special occasion, so the flowers are as fresh as possible. Make sure that your flowers remain in water until they are delivered. For those of you wondering if this can be done with pre-dried flowers, the answer is yes! Send Brittany a photo of your bouquet and she would be happy to let you know what can be done.
The Process of Drying and Preservation:
Once your bouquet is received, it is disassembled, and the best blooms and greenery are selected to work with. If the flowers are fresh, Brittany will dry them out using silica sand. This product will dry out the flower while keeping most of the colour and structure the same. There will be some changes in appearance, much like you would expect if you were to dry them out naturally, however this product provides a much better result. The process of drying using the silica sand can take anywhere from 1 week to several weeks depending on the type of flowers provided (larger/thicker flowers take longer).
Now, for the fun part! Once the process of drying is complete, Brittany will start to design the layout using silicone molds and pour thin layers of resin over the flowers. This can take about 1-2 weeks. During this process, you will receive updates and be asked for final approval of the layout/design before the resin is poured. Once completed, you will be contacted for pick-up.
The only thing left to do, is to find the perfect place to display your beautiful piece of art!
Available Artwork:
6" x 6" or 8" x 8" Bouquet Preservation Block
7" Hexagonal Preservation Block
Resin Ring Holder
Resin Watch Holder
Resin Coasters
Letter Keychain
Necklace Pendant
Contact for special requests.
Website: http://www.thefloralstudio.ca/

Instagram: https://www.instagram.com/thefloralstudio.ca/

Facebook: https://www.facebook.com/thefloralstudio.ca
Previous Artwork: