Get away and experience Inner Joy
By: Louise Frost
•
November 7, 2022
•
Community, Weddings
Community Connections with Louise Frost
Inner Joy Getaways is the perfect blend of feeling far away from but yet close to home. Their elegant suites allow guests to escape the hustle and bustle of everyday life with their quiet and peaceful country views. Inner Joy and The GrandWay have partnered in order to offer another option for a unique outdoor ceremony space for couples. Renting the ceremony space at Inner Joy allows The GrandWay to take care of the food and beverage (ie: all the catering) for couples – a perfect combo. This partnership provides couples with the best of both worlds – river views and country elegance. Oh …and your wedding pictures are going to be magnificent!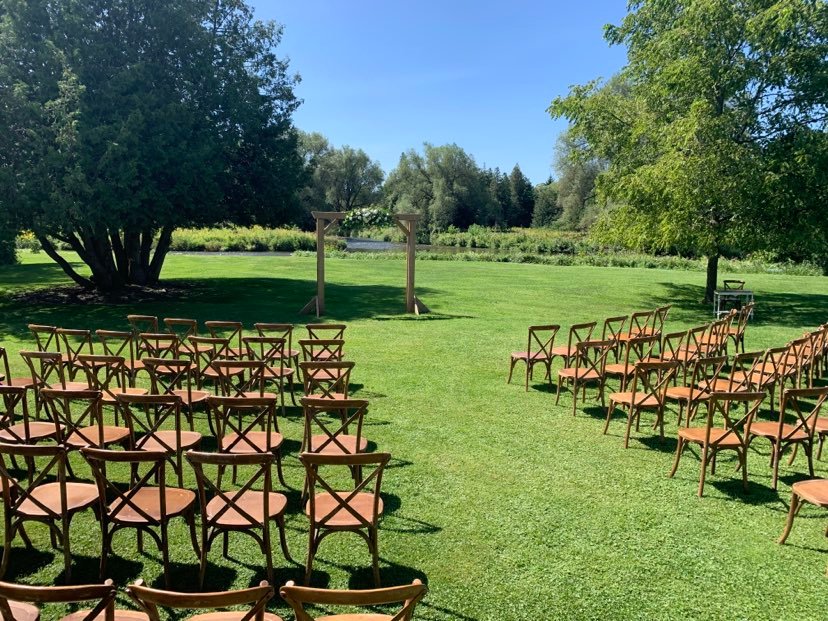 Will and Laura Feenstra are the owners and creators of Inner Joy Getaways. This husband and wife duo have put their heart and soul into this new business and have invested in seeing it grow and evolve. Their backgrounds are pretty unique, however, this particular property balances both of their "worlds".
Who is behind Inner Joy Getaways?
Will is a discipleship counsellor with a Christian organization in Kitchener. He works with youth with mental health issues. As a pastor for 7 years, he has found his passion in helping youth and providing counselling for them to navigate life's challenges. At Inner Joy, he takes pride in maintaining the grounds of the property and overall maintaining its beauty. Will enjoys the variety in his daily activities from lawn maintenance to building projects and everything in between and then shifting into his other role of youth counsellor, where he walks alongside the youth in the area.
Laura has a diploma in interior design and an eye for creativity and function. She has worked for 5 years in event design, creating beautiful spaces to share celebrations in. Laura always knew that she wanted a place for her to be able to host her own events and put her own unique stamp on to create the overall style.
Will and Laura definitely have unique backgrounds, right? The surrounding picturesque views and tranquillity add value to both of their passions. The youth who visit or stay with them in the main house, find calmness in being so close to nature, while wedding guests or suite guests find that same peace along with style when they choose to host their wedding ceremony or stay in one of their four suites. It's a great synergy of ideas creating a profound impact on all who visit!
Inner Joy was started when a property that Will and Laura had their eye on for over a year was still up for sale. They wanted to purchase a property with more water views and have the ability to add more properties to it. When the opportunity to check out/possibly buy this beautiful new property arose, they started to realize how much potential was there. They decided to put their personal faith into action and at the risk of looking ridiculous, Laura and Will wrote a letter to the owners. In the letter, they thanked the owners for their consideration and shared all the great ideas they had for the property. With all odds stacked against them, the risky letter actually worked! Not only did the owners accept their offer, but they also ended up investing in Inner Joy down the road!
How Inner Joy came to life…
The property was originally a farm called "Green Valley" due to all the greenery and the fantastic view of the Grand River. It then became home to a private international cricket club. Will and Laura needed to generate income and pulled their business plan together for "Inner Joy Getaways". During this process, they started brainstorming what the land could be used for and the needs of the surrounding community. Overall, they realized there were minimal comparisons in the area. This excited them, they would be a unique destination!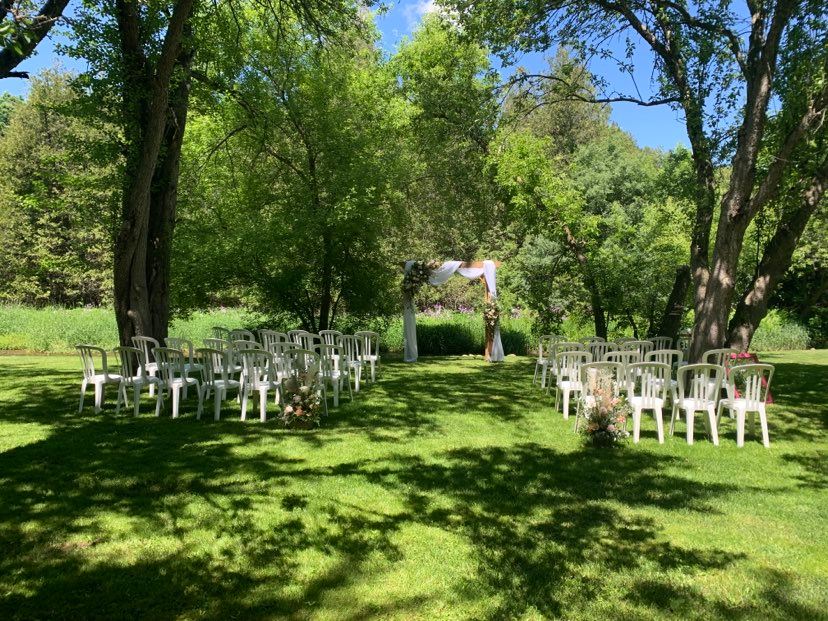 Laura had yet to hear much about shipping containers being converted into functional rooms/spaces. After a lot of Googling and understanding how they can make this work, their business came to life. They purchased 4 shipping containers and outfitted them with water and electrical access, pristinely designed them (with Laura's keen eye) with high-end features, and gave them each a unique look and feel, full of luxury and earthy style. Inner Joy Getaway was launched in 2019.
Inner Joy Getaway provides a one-of-a-kind experience for its guests
Inner Joy is perfect for a weekend getaway in the heart of the country. Host your wedding ceremony on-looking the Grand River or Swan Creek. For spectacular memories, take photos in the silo turn viewing tower or along the waterfront at various locations during golden hour. It's a great space to host your bridal party prior to the wedding or a honeymoon getaway after the wedding.
They have hot tubs, campfires, and a "make your own breakfast baskets" in each room. Not only are you experiencing the serenity of the land and beautiful views you get to connect and rejuvenate in a country experience…that's not too far away from city life and other Centre Wellington attractions!
Learn more about Inner Joy Getaways HERE.
COMMUNITY CONNECTIONS highlight The GrandWay's community partners. We love working with local businesses and continue to elevate them through partnerships and storytelling. Louise Frost, Marketing Coordinator at The GrandWay Events Centre, takes a behind-the-scenes look at various organizations and the owners/operators who pour their heart and soul into their business daily.