Meet Doug!
By: Louise Frost
•
November 28, 2022
•
Team, Team, Team Members
"The kitchen is my calling."

– Doug Parker, Head Chef at The GrandWay Events Centre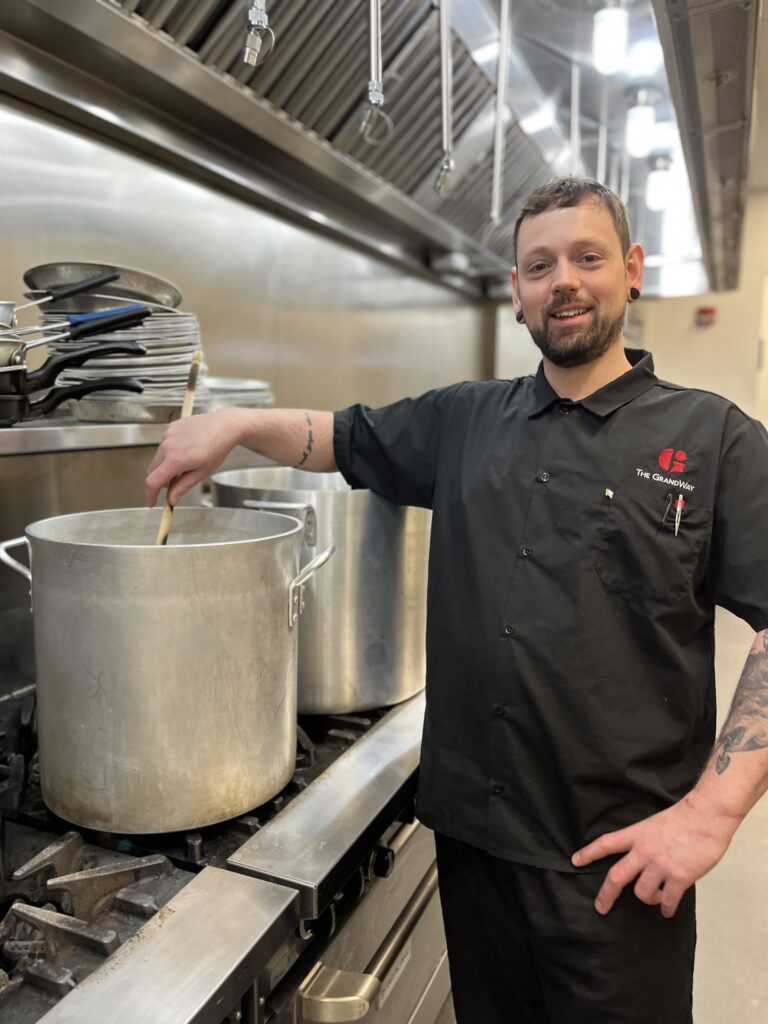 Doug loved cooking from an early age. At the age of 15, he started working in his first kitchen job as a dishwasher. He was so excited to walk out with loonies and toonies in his pocket! A few years later, when another team member left, the chef asked him to fill in as a cook. This started the trajectory of his career. After this role, Doug shifted into a new role at a BBQ smokehouse, this is where he learned to run a kitchen. He was then urged to go to school to train as a chef. He chose to do a Chef Training Program at Conestoga College which gave him the extra kitchen knowledge he needed. Right out of school Doug worked at Wildcraft and learned to work with various personalities and roles in a fast-paced environment. During his career there, he moved up the ranks during his 5 years. He then shifted to a new restaurant 'Proof Kitchen + Lounge' where he worked alongside the Chef to refine his skills, taking on larger events and the administrative side of the kitchen.
COVID allowed him to take a break and truly reflect on his career and the desires/goals he had and wanted to pursue. This is when he realized he wanted more. Seeing a Head Chef role open at the brand new GrandWay Events Centre, he decided to apply.
His current role…
As Head Chef, Doug is in charge of the entire kitchen and the kitchen team. Creating clarity, confidence, and engagement amongst the team. He encourages the team and builds them up. In his words "it's about putting others before yourself".
Overall, Doug takes care of menu planning, ordering, receiving, maintenance, execution, training, scheduling, relationship building with suppliers, and of course other duties as required!
What goes into creating a menu?
Creating a menu is no easy task and takes a lot of thought and time. Doug tackles this task by looking at the geographical location of the client and food. This allows him a creative way to appeal to his audience while keeping meals exciting. Doug considers the availability of products (seasonality, inventory, etc), local suppliers and farmers available. He also considers the skills of his team, the time it will take them, and the complexity/simplicity of the menu. Doug enjoys adding something a little different – a surprise if you will – to elevate the meal.
Doug has an intuitive style of cooking – he believes in using all aspects of the client's senses when considering a menu. Food is a language we all speak, so no matter where we are from or who we are with, we all come together to eat. Because of this theory, Doug pours love and respect into every meal he creates.
Doug looks forward to growing The GrandWay team and offering a wide variety of options to our guests.
Let's hear from Doug himself…
What is the best piece of advice ever given to you?
Never sell yourself short. You have to believe in yourself and trust your intuition. I have learned to truly appreciate the smaller things in life and all the significance they hold.
What do you like to do on your days off?
I love to play guitar (yes, I used to be in a band!). I am a car lover and have a motorcycle, I also love boxing, animals, and being out in nature. I have even started beekeeping and have also learned how to raise monarch butterflies!
What is your advice to couples preparing for their wedding day?
Always do a tasting…and then be truthful in your comments about what you liked and didn't like. If you want something or don't want something we can most likely accommodate it. I always like to encourage a couple to try a variety of places. Personally, I enjoy building relationships with the couples I work with and meeting with them to discuss their menu.
Are you looking to try out Doug's culinary skills?
Check out all GrandWay Events HERE or book an event at The GrandWay – Contact an Events and Experiences Coordinator at bookings@thegrandway.com